Dentist Philip Lamey 'must not escape criticism' over cancer results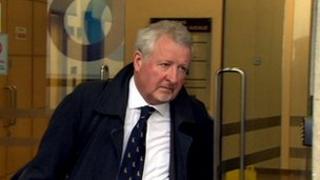 A Belfast dentist who had to recall 135 patients over cancer fears should not escape criticism just because some of them did not have the disease, a misconduct hearing has been told.
Four of Prof Philip Lamey's patients died and 15 others were diagnosed late with the disease because of his incompetence, it is alleged.
The General Dental Council hearing is examining his treatment of 33 patients at the Royal Victoria Hospital patient.
He denies the 46 charges against him.
The General Dental Council (GDC) is the governing body that regulates standards within the UK dental profession and if found guilty of the charges, Prof Lamey could be struck off the register.
A GDC panel has already heard how he failed to carry out biopsies on several patients who were at high risk of developing cancer and subsequently, some of them developed the disease.
One man, who had a long history of trying to give up smoking, was originally referred to a specialist in 1994.
'In the dark'
When he saw Prof Lamey at his Belfast clinic in 2006, he had a white patch on his tongue associated with smoking.
However, it was another three years before a biopsy was carried out.
Expert witness Dr Stephen Layton accused the dentist of trying to go forward with the patient's treatment "in the dark".
When the biopsy results were received in 2009, the tests showed the patient did not have cancer.
But Dr Layton, who has been giving evidence for over a week, said: "I really don't think clinicians should be free from criticism simply because it all turns out alright."
The dentist is also accused of failing to spot tumours in other patients and instead prescribing iron tablets, mouthwash or sugar-free chewing gum.
The hearing in central London continues.