Massereene murder trial: Soldiers tell of horror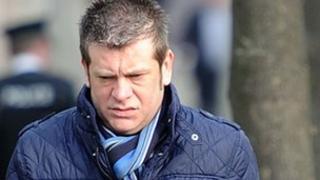 Soldiers collecting pizzas outside their Antrim base came face to face with gunmen, a murder trial has heard.
Brian Shivers, 47, from Sperrin Mews in Magherafelt denies murdering two soldiers at Massereene Army barracks.
Sappers Mark Quinsey, 23, from Birmingham, and Patrick Azimkar, 21, from London, died in the Real IRA shooting in March 2009.
The trial heard the soldiers decided to have "one last supper" before deployment to Afghanistan.
The soldiers' evidence revealed that but for a delay that day, the troops from 38 Engineers would not have ended up as targets.
Former Sapper Robert Marshall, the only person to escape unscathed from the ambush, told how he and the others were joking and decided to treat themselves to "a last supper" of pizzas.
He said as they collected their pizzas, he initially thought a "firework" had gone off.
Then he recognised the sound of gunfire and realised he was in the middle of an ambush.
Later after the gunmen had escaped, Mr Marshall said he returned outside where he found Mark Quinsey.
"I went up to Mark .... he was unresponsive. There was a lot of blood," he said.
A statement was read to the court, from another soldier, who was shot in the hand and shoulder.
He told how he believed he was saved by being pushed to the ground by Sapper Azimkar.
The statement from Sapper Mark Fitzpatrick described how he saw a gunman stand over his friend and "put two or three rounds" into him as he lay on the ground.
Sapper Fitzpatrick said he had never "felt so defenceless" in all his life.