Alex Attwood: No decision over Coleraine DVA jobs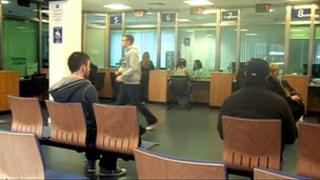 Environment Minister Alex Attwood has said that "no decision" has been taken over the future of the Driver Vehicle Agency in Coleraine.
He was speaking after meeting UK Department for Transport Minister Stephen Hammond.
There are fears more than 250 jobs could be moved from Coleraine to Swansea, as part of centralisation moves.
However, Mr Attwood said the jobs could still be saved.
"Minister Hammond confirmed to me that 'no decision' has been taken about the future of the DVA in Coleraine," he said.
"Given the fully justified concern of recent days around the DVA jobs, it was very important that the London government cleared the air.
"That said, the campaign to save Coleraine jobs continues.
"I firmly outlined to Minister Hammond that for a range of very strong reasons the jobs in Coleraine needed protection."
Mr Attwood said he would be writing to Mr Hammond "to press my argument" and hoped to meet him again soon.