One Direction declare 'no glow' area in Belfast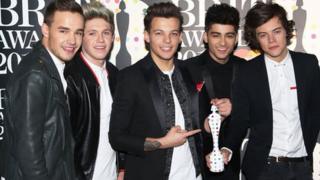 One Direction mania is taking Belfast by storm.
The excitement is at fever pitch among young girls as their pop idols take to the stage for the first of four much-anticipated gigs in Northern Ireland.
But the teen sensations are said to be so concerned about fans getting too zealous, that glow sticks have been banned from the Odyssey Arena.
Glow sticks? Yes, not to mention umbrellas and plastic bottles.
Promoters Aiken PR have said that due to "security restrictions" such items will be removed and all bags will be searched.
"You will be asked to leave such items at the door," said a spokesman.
Why, you might wonder?
Well, it appears that after a fan hurled a shoe at band member Harry Styles during a London gig, the boys are taking no chances.
Also on the list of prohibited items are recording equipment, professional cameras and glass items.
And fans are not permitted to queue at the venue before 17:00 GMT.
There is certainly mass hysteria surrounding the arrival of the five boys - Harry and his band mates, Liam Payne, Louis Tomlinson, Niall Horan and Zayn Malik.
It is mainly among a certain section of teenage girls and even younger.
But no doubt the tightening of security will not lessen the thrill for the 32,000 fans expected at the Odyssey for the gigs.
Some die-hard fans - known as Directioners - are going to more than one concert and many are being accompanied by secretly delighted mums or very embarrassed dads.
Among the dads will be BBC Northern Ireland's Ireland correspondent Mark Simpson who is taking his 14-year-old daughter, Holly.
But our correspondent was a little coy as to whether he would be hiding in the background or strutting his stuff to such hits as Kiss You, Little Things and What Makes You Beautiful.
"I'm just glad the concerts in Belfast are finally about to happen," he said.
"Holly and her friends have been writing on their hands every day for months - 200 days to go, 199, 198 etc. One Direction is all she talks about and thinks about."
Mark agrees that the boys have a "perfect mix" of looks and sound - but he has gone beyond the call of duty for his fanatical daughter.
She adores Niall Horan, who is from Mullingar in County Westmeath and still returns to Ireland regularly to visit his family.
"For Holly's birthday, she made me drive to Mullingar in Westmeath, not to meet Niall Horan, but to try and spot his dad who works on the night-shift in a local supermarket.
"For Christmas she made me spend £30 on a life-size Niall Horan. That is the level of dedication for this group.
"But on a serious point, it's great that the world's biggest pop bands are now coming to Belfast. It wasn't like that in the 1970s and the 1980s when I was growing up.
"It's great to see the buzz there is around the city, and see so many young people so excited."
Excited will probably be an understatement as the former X-factor contestants greet their fans. The level of noise could be unprecedented. Ear plugs at the ready dads!