Dentist Philip Lamey 'followed protocol in some cases'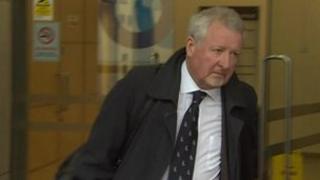 A dentist, whose actions forced a recall of 135 patients, did follow protocol in some cases, a misconduct panel has heard.
Professor Philip Lamey allegedly failed to carry out biopsies with the result that 15 patients were diagnosed late with cancer, four of whom died.
At a hearing in London an expert agreed he had acted reasonably in some cases.
The General Dental Council heard that patients with potential cancer symptoms should be biopsied within six weeks.
Fiona Neale, representing the dentist, said this was done in some cases.
Expert witness Dr Stephen Layton said: "If it was Professor Lamey's plan to review the situation in a few weeks then I don't have any criticism."
However the panel were told some patients waited four or five months to be tested even though many smoked and were at high risk of developing the disease.
The professor is accused of 46 charges, relating to 33 patients, that could result in him being struck off.
Among the allegations are that he prescribed mouthwash, iron tablets or sugar-free chewing gum to cancer sufferers after failing to spot they had the disease.
All the charges relate to when he was working as the Royal Victoria Hospital in Belfast between 2006 and 2010.
The hearing continues.