David Ford 'will not interfere' in court cases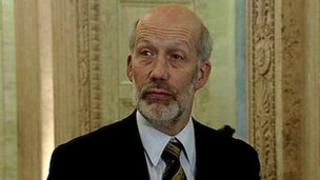 Justice Minister David Ford has said he will not be telling the judiciary how to deal with cases.
His comments follow a letter from the office of NI's top judge saying it was vital judges considered the merits of individual cases independently.
Unionists had criticised a perceived bias in recent bail decisions.
Mr Ford said: "I will make it very clear that as minister of justice I will not be telling judges what to do."
"I think the chief justice's secretary sent out a very important letter, which clearly established the role of judges and the issues that they have to take into consideration around bail," he said.
"And I think politicians need to be very careful, particularly at difficult times like this, in suggesting that judges should be swayed by anything other than the normal considerations."
'Double standards'
Last week, a senior republican facing IRA membership charges was released on bail, but two union flag protestors were remanded in custody.
It prompted a complaint by First Minister Peter Robinson and other unionists. They said there was a perception of "double standards".
But the Lord Chief Justice's principal private secretary Laurene McAlpine has said courts must act without external influence.
At Northern Ireland Question Time in the House of Commons, the DUP's Nigel Dodds asked Secretary of State Theresa Villiers if she understood the anger and bewilderment felt by unionists.
But Ms Villiers said it was up to the courts to decide who should get bail.