Theresa Villiers says NI economy 'too dependent' on public spending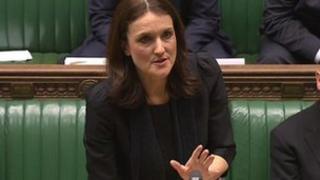 The Northern Ireland Secretary of State has said the region's economy is "too dependent" on public spending.
Theresa Villiers made her comments in an address to politicians and business leaders at Stormont on Thursday.
She said unemployment remained "too high" and that the private sector needed to be revived.
Ms Villiers said she thought government measures being taken to "rescue" the UK economy would "bear fruit" in Northern Ireland.
She added that she believed reducing corporation tax would help stimulate further economic growth and told the audience she would be urging her cabinet colleagues to resolve the matter.
"The prime minister is continuing to consider the case for devolving the power to set corporation tax to the assembly in order to help attract new investment," she said.
"He will be discussing this, along with other matters, with the first and deputy first minister when he meets them later this month."
In June, the leaders of the world's eight richest countries will attend the Lough Erne golf resort in County Fermanagh for the G8 conference.
Ms Villiers said the event should be seen as an opportunity to showcase Northern Ireland.