Queen's University students not hit by test blunder re-check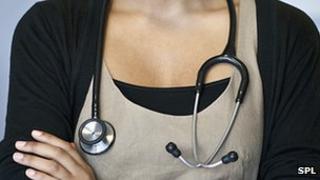 Queen's University in Belfast has said none of its medical students has lost out in the re-checking of a vital test.
Marks in the Situational Judgement Test help dictate which hospital placement new doctors are allocated.
Across the UK, 148 students had their placements changed, about half are now better off and the other half are worse off.
Queen's said only two students saw a small change in their marks.
All 241 new doctors will keep their original hospital placements or will remain on the reserve list in the hope of getting a place by the end of April.
The test gauged the performance of final year students.
In February, more than 7,000 students were affected across the UK following the decision by the UK Foundation Programme Office (UKFPO) to withdraw all offers.
It is understood 353 of them have had their marks changed.
The re-count of the Situational Judgement Test was ordered after the automated marking led to mistakes in the results.
That in turn meant some student doctors missed out on their first choice of hospital placement for the next two years.
Some were told they had not qualified for any place.
There is to be an independent enquiry into what went wrong.
This is the first year the Situational Judgement Test was formally used to gauge the performance of the final year students as they applied for two year placements in hospitals, the next stage of their training.
It is understood the new test was piloted in the past.
The test was supposed to be designed to make the process of allocating places fairer and more effective.