Philip Lamey 'unwise' to let trainee dentist do biopsy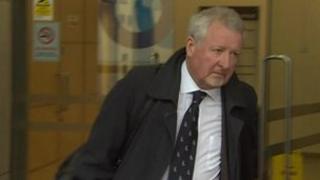 A dentist accused of widespread malpractice was "unwise" to let a trainee dentist do a biopsy on a suspected tumour patient, a misconduct panel has heard.
Professor Philip Lamey is accused by the General Dental Council (GDC) of 46 counts of malpractice against 33 different patients.
Prof Lamey worked at Belfast's Royal Victoria Hospital at the time.
He could be struck off if the claims are proven.
Proceedings have now been adjourned until October.
Prof Lamey is alleged to have failed to carry out biopsies that resulted in 15 patients being diagnosed late with cancer, four of whom died.
On Friday, expert witness Stephen Layton, for the GDC, stood by his earlier criticism of Prof Lamey's decision to let a trainee dentist, a senior house officer, carry out a biopsy on a patient suspected of having a tumour.
He was asked by panel member Kathryn Marshall why he had criticised letting a senior house officer carry out a biopsy on patient four, but not on another person dubbed patient 14.
Mr Layton, a maxillofacial surgeon, explained that it was the "default setting" to let competent senior house officers carry out most biopsies - but not those where the underlying problem could be more serious.
He added: "The suspicion, I felt, should have been present from the outset that this was not a straightforward case.
"Therefore allocating the excision of something that could be a tumour to a junior member of staff was, in my view, unwise.
"There should be a suspicion that this was a tumour. If it was going to be excised it should have been done by someone senior with more experience."
Mr Layton also claimed Prof Lamey's examination notes for some patients were "unhelpful".
He made the claim when asked by David Bradly, for the GDC about patient seven, for whom Prof Lamey is accused of "failing to maintain adequate clinical records".
Mr Bradly said: "There is a reference to lip lesion, then query 'traumatic'. Certainly what was put is that it was a tiny lesion.
"That is in fact what Professor Lamey wrote for this appointment. Does this description 'trauma' help you with the appearance of the lesion?"
Mr Layton answered: "It is not very helpful because it is a cause rather than a diagnosis."
Fillings
Mr Bradly also asked Mr Layton about patient five, who Prof Lamey is also accused of mistreating.
He referred to Prof Lamey's notes from January 2006 in which he referred to a "traumatic element, plus or minus, it appears to be".
Mr Layton said the note was "a matter of interpretation" but said "it would be difficult to know what Professor Lamey meant by traumatic element…it does not specifically refer to ulceration or atrophy, but it could".
He added that adding a plus or minus on the notes "throws some doubt" on Prof Lamey's diagnosis of a possible lichenoid reaction - which saw him advise that the patient's amalgam fillings be removed.
He said: "Certainly (it's) not a very definitive diagnosis… I suppose it is problematic if you have not reached a definitive diagnosis.
"I suppose it means there is something about the appearance that prevents you from being certain of any clinical assessment."
However, Mr Layton also retracted earlier criticism of notes made by Prof Lamey on another patient, having later discovered more detailed notes had been made.
Prof Lamey denies the case against him.
The professor is accused of 46 charges, relating to 33 patients, that could result in him being struck off.
Among the allegations are that he prescribed mouthwash, iron tablets or sugar-free chewing gum to cancer sufferers after failing to spot they had the disease.
All the charges relate to when he was working as the Royal Victoria Hospital in Belfast between 2006 and 2010.