Northern Ireland ministers in five-day trip to Brazil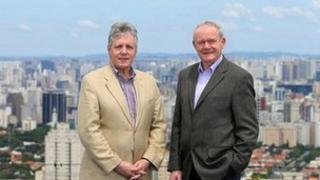 Northern Ireland's first and deputy first ministers have travelled to Brazil for a five-day visit.
Peter Robinson and Martin McGuinness will promote economic development, trade, tourism, university and sporting links during the trip.
They are currently in Sao Paulo and will also be visiting Brasilia and Rio de Janeiro.
The visit is part of a wider programme aimed at promoting Northern Ireland in the world's fastest growing economies.
Mr Robinson said the Northern Ireland Executive's programme for government had made the economy "the key priority".
He said the ministers would "leave no stone unturned" as they continued to identify new markets and promote Northern Ireland in Brazil.
"Northern Ireland has a lot to offer potential investors with our skilled work force and world class education system," he added.
"Brazil is a major player on the world stage and I look forward to a very informative and productive visit."
Mr McGuinness said that as the fifth largest country in the world and with a population in excess of 191m people, Brazil was "a key market for us".
"We will meet with the Brazilian government, business leaders and universities and avail of every opportunity to promote the north of Ireland," he said.
"The only way to develop international relationships is through face-to-face meetings.
"Our presence here demonstrates to the Brazilians that we are committed to exploring mutually beneficial opportunities to grow our economy."