More Northern Ireland residents using Dublin Airport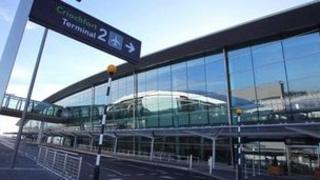 More than 500,000 Northern Ireland residents used Dublin Airport last year, a 15% increase on 2011, according to new figures.
The statistics were released by the Dublin Airport Authority (DAA).
The number of Northern Ireland-based passengers using Dublin Airport has almost doubled since 2010, the DAA said.
Just over 70% of Northern Ireland residents who used the airport in 2012 did so for holidays or leisure trips.
Almost 20% travelled for business reasons.
Three quarters of Northern Ireland passengers took a direct flight from Dublin to their final destination, while 25% transferred to a connecting flight.
The DAA put the 2012 rise in NI passengers down to a number of factors.
"Dublin Airport has an unrivalled route network with direct flights to 170 destinations, we have invested in new facilities in recent years to offer our passengers a much improved travel experience, and the new road network has made travelling from Northern Ireland to Dublin faster and more predictable," the authority's Paul O'Kane said.