'Seas in crisis' protest at Stormont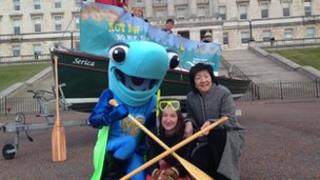 Campaigners have mounted a demonstration against the lack of protection for coastal waters around Northern Ireland.
They are unhappy that a Marine Bill for Northern Ireland has yet to be passed by the NI Executive.
The Bill was first presented in February 2012 and has passed just three out of seven stages.
"Our seas are in crisis" said Richard Devlin from the Northern Ireland Marine Taskforce.
"We really do need to put in place proper planning and the proper conservation measures to rescue the situation"
The Bill, if passed, will apply to the sea and seabed stretching 12 miles out from the coast and its aim is to promote, protect and sustain our coastal waters.
Among other things the Marine Environment Bill would allow for conservation areas to be set up in certain circumstances, including the conservation of species of marine flora and fauna.
The Environment Minister, Alex Attwood, says he hopes to table the bill next month.
"The Bill has already gone through many stages in the assembly" he said. "Now, I want to bring it back onto the floor of the assembly and I want that to happen in April."