Massereene murder trials sees possible getaway route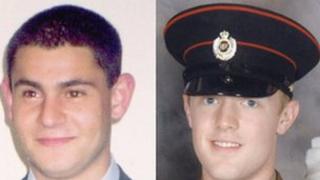 The trial of a man accused of being involved in a Real IRA gun attack that killed two soldiers has been shown a video of a possible getaway route.
It is alleged that Brian Shivers, 47, travelled part of the route in convoy with the gunmen following the shooting at Masserene Army base, in 2009.
He is also accused of attempting to burn their car afterwards.
Mr Shivers denies the murders of Mark Quinsey, 23, from Birmingham, and Patrick Azimkar, 21, from London.
He also denies the attempted murders of two other soldiers, two civilian guards at the base, and two pizza delivery men, and possession of the two AK assault rifles used in the shooting on the outskirts of Antrim.
Abandoned
Under cross-examination from defence QC Orlando Pownall a police officer said he could not say which route the gunmen took and at what point, if ever, they were joined by Mr Shivers.
He also said that the gunmen could have driven along a route, that he had not driven, to the drop-off point where the getaway car was abandoned.
The length of time this may have added to the drive was also unknown.
Mr Pownall said that a number of other unknowns included the time taken to pick the gunmen up and to drop them off.
Nor was the location of the drop-off point known, nor the time taken to travel to it, nor was it accounted for in the test drive.
It was also accepted that there was no estimate of the time taken to unload ammunition, weapons, "or whatever" from the car when it was abandoned.
Questioned by the trial judge, the officer agreed that given a particular route, it could have taken the getaway driver much longer to travel than it had taken him.
However, the driver said even though he was driving a brand new car as compared to the gunmen's 12-year-old blue Vauxhall Cavalier, he could have completed the journey in a faster time than in his original test run.