Developers may be forced to act on incomplete sites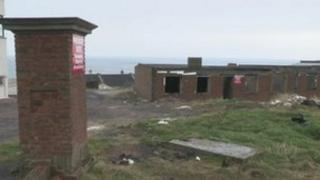 Legislation that could force developers to take action on partially completed sites is being tested in Northern Ireland for the first time.
The department of the environment has served notice of its intention to make what is called a completion order on a site in Portstewart, County Londonderry.
The land on the Strand Road is the former site of the Strand Hotel.
The site is owned by developer Norman Menary.
In the late 90s, his company N M Developments was granted permission to build an apartment block but only the first level has been erected.
Mr Menary has requested a hearing before the Planning Appeals Commission, which will take place in May.
It will then advise the department on proceeding with the completion order.
If it does decide to proceed, Mr Menary will have a specified time to complete the build.
The period given must not be less than 12-months.
If the build is not completed within the stipulated time, then the planning permission would expire.
Councillor Maura Hickey said local people want to see something done with the site.
"It has been the topic of conversation not just with residents, with visitors, tourists, they cannot believe that such a site has been allowed to lie like this for such an incredible length of time," she said.
Environment minister, Alex Attwood, admits that completion orders alone will not be enough to solve this problem.
"There is a gap in the law, but I'll get the law changed so that if I do have completion orders deployed I can then move on to sites where planning permission has expired in order to have the site cleared up"
Presently, if a developer is granted planning permission they must start the build within five years but once a 'material start' has been made there is no time limit on its completion.
This means developers can start a building and then come back to it several decades later if they so decide.
Completion orders are set out in Article 37 of the Planning Order but they have never been used.
Solicitor Gary McGhee welcomes the fact that the legislation is being tested.
"I think that any decision by the department to use all the enforcement powers that are on the statute book has to be welcomed because frankly there is no point in having them available to the department if it isn't going to use them."
The environment minister made a pledge to explore what powers were available to deal with uncompleted developments prior to the Irish Open last summer.
The outcome of this case could have implications for many sites across Northern Ireland.