Under-occupancy penalty: Minister has 'significant concerns'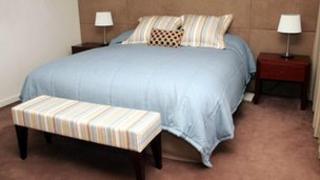 Up to 32,000 NI people on housing benefit could be affected by the proposed under-occupancy penalty.
Council or housing association tenants of working age face losing some housing benefit if they have more bedrooms than it is considered they need.
Social Development Minister Nelson McCausland told the assembly he had significant concerns about the move.
He said if it was not implemented, the cost to the Westminster block grant was estimated at £17m annually.
'Shambolic'
Mr McCausland was replying to a question from the UUP's Ross Hussey.
Mr Hussey described the "bedroom tax" as one of the most "chaotic and shambolic aspects of the reform process".
Green Party leader Steven Agnew asked the minister if the thought £17m was not a price worth paying.
Mr Nelson said it was matter for the executive to discuss.
"This is a difficult issue, but one of many," he added.