Love and death: My wife spent six years in a coma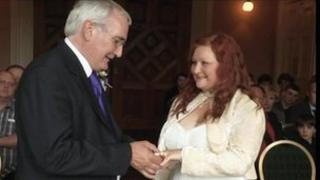 How's this for a romantic proposal? "I really want to make a commitment to you, but I'm still married and I'm not divorcing her".
When George Armstrong popped the question to his bride-to-be, he told her that his first wife would be the one who had the final say over the matter.
At the time, George was still going to see his first wife on a regular basis, and yet he hadn't held a proper conversation with her in a very long time.
But this was no ordinary breakdown in marital communication.
His first wife, Oriel Armstrong, had been in a coma for several years.
She first became seriously ill in 1996, shortly after the birth of her second child and was admitted to a nursing home for respite care.
Single fatherhood
Oriel had been diagnosed with multiple sclerosis (MS) in her early 30s, but a severe deterioration in her condition meant she was incapacitated, and George found himself bringing up their two young children alone.
The County Antrim man threw himself into single fatherhood, while still visiting his wife in the nursing home every day.
"People would say, if you're in a coma it's two blinks for 'yes' and one blink for 'no'. That wasn't happening," George said.
"There was no communication whatsoever with her. It was heartbreaking just to watch her."
The nursing home was close to the local primary school in Ballyclare, and as their children grew, George's visits to his wife were incorporated with the school run.
"For the last six or seven years she was just basically lying there. I was up every day. Hopefully she could have heard us, we're not sure about her vision. She was fed through a tube and basically…....it's too hard to talk about."
His voice cracking with emotion, George quickly steers the conversation towards less painful memories and says he believes that he has done a "reasonable job" in raising their children.
'Learning curve'
When the former Harland and Wolff shipyard worker took on the role of a single dad in 1996, he admits he didn't know much about bringing up kids.
For him it was a "huge learning curve", especially looking after his then six-month-old baby, Alister.
But George credits single parenthood as the reason for the close relationship he now enjoys with his teenage son, who he recently asked to be best man at his second wedding.
Eight years after his wife was admitted to the nursing home, George met Amanda Ryzmar, an Australian living in Antrim.
A separated mother-of-five, she also had experience of coping with a partner with a long-term illness.
The couple met through their volunteer work, but it was another five years before George and Amanda's friendship developed into a romantic relationship.
"With having two young children in the house, I basically had nobody to talk to," George recalls.
"With Amanda having the same background as me, we had something in common. It's not that I wanted to get into a relationship - it just happened."
'Betrayal'
He said he discussed the matter with his children, and "got their approval" before beginning the courtship.
Their reaction was "mixed" at first, with teenage concern over the prospect of having to move house or school. But George says both families have since blended.
"All the kids just melt together - they just all get on so well," he says.
However, not everyone who knew the couple accepted their engagement.
"A lot of church people turned their back on me, a lot of people just ignored me, which I didn't like," George recalls.
Did he feel that some people viewed his proposal as a betrayal?
"I think they might have, yes, but then they're not in my situation," he said.
"They could turn around and say 'well I wouldn't have done that'. Aye, but you're not in my situation and hopefully you never will be."
By now, George was rapidly approaching his 50th birthday.
He had been married for 21 years, but in that time his wife had spent almost twice as long in the nursing home than in their family home.
'Love and Death'
However, his proposal to Amanda, while his first wife was still alive, was something that weighed heavily on the new couple.
"We decided to get engaged, but to wait. It's a hard thing to explain," George says.
"I said 'look, I really want to make a commitment to you, but I'm still married and I'm not divorcing her. That's it - she [Oriel] is going to make the decision when this is going to happen', if that make's sense?"
In May 2010, Oriel Armstrong died from bronchial pneumonia, having never regained consciousness.
Amanda's former partner, who was suffering from chronic obstructive pulmonary disease (COPD) passed away three months later.
It was during a visit to Belfast's registrar's office to sort out documents that George met filmmaker Guy King, who was making a BBC Northern Ireland documentary - Love and Death at City Hall.
George agreed to take part in the programme and when he married Amanda in July 2012, the TV crew captured his wedding preparations and filmed the ceremony at Belfast Castle.
'Absolutely weird'
After their unconventional courtship, George and Amanda have since embarked on married life with suitably unusual living arrangements.
The couple and their children live in two separate houses, right next door to each other in Ballyclare.
"We've got one 16-year-old, two 17-year-olds, a 22-year-old and a 24-year-old. There is no way you're going to cram them into a three-bedroom house," George says.
"We take turns at dinner. Dinner one day in my house and dinner the next day in her house.
"People think it's absolutely weird but it works."
George's wedding is just one of the stories featured in Love and Death at City Hall, which will be broadcast on BBC One Northern Ireland on Monday, 18 March at 21:00 GMT.