Judge 'minded to quash' A5 decision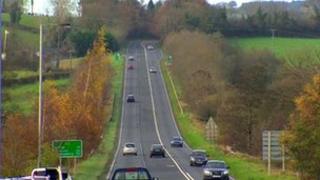 A High Court judge has said he is minded to quash the regional development minister's decision to proceed with the A5 dual carriageway.
The A5 scheme forms part of a proposed key cross-border business route linking Dublin and north west Northern Ireland.
Mr Justice Stephens said the Department of Regional Development should have carried out a Habitats Directive assessment but had not done so.
The court will sit again on 20 March.
The judge rejected all the other grounds of appeal of those objecting to the plan.
Regional Development minister, Danny Kennedy, said his department "will now prepare the necessary submissions in relation to the Habitats Directive".
"It would not be appropriate for me to comment on the likely outcome of this legal challenge in advance of the judge's final decision," he said.
Farmers, businessmen and landowners joined together under the Alternative A5 Alliance grouping in a legal challenge to the planned stretch of dual carriageway between Londonderry and Aughnacloy, County Tyrone.
Uncertainty now surrounds the overall project after the Irish government downgraded funding due to its tough economic circumstances.
Judicial review proceedings centred on the decision to press ahead with two sections of the route, for which the Northern Ireland Executive has approved £280m.
Work on the dual carriageway has been put on hold due to the legal intervention.
Conservation areas
Mr Justice Stephens found that there had been a failure to carry out an appropriate assessment of the rivers Foyle and Finn special areas of conservation under the Habitats Directive.
The judge said Loughs Agency evidence to the public inquiry raised doubts over the effectiveness of remedial measures proposed by the department
"The risk of likely significant effects on the integrity of the special areas of conservation cannot be excluded on the basis of objective information," he said.
"An appropriate assessment should have been but was not carried out under the Habitats Directive."
Mr Justice Stephens said: "On that ground the decision should be quashed."
However, he said he would allow the department the opportunity to make further submissions on whether the breach should lead to such an outcome.
Lawyers on both sides will return to court next week for a final resolution to the case.
Costs of bringing the challenge will also be settled at that stage.