Brian Shivers' DNA profile was on matches says scientist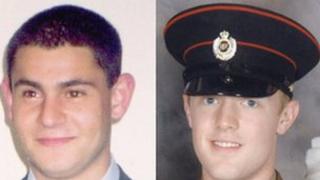 DNA profiles uncovered on two burnt matches could have come from a man accused of murdering two soldiers, a court has heard.
Mark Quinsey, 23, from Birmingham, and Patrick Azimkar, 21, from London, were killed outside Massereene Barracks in 2009.
Brian Shivers denies the murders.
A senior forensic scientist said the likelihood of it having come from a person unrelated to Mr Shivers was "less than one in one billion".
Mr Shivers, from Sperrin Mews, in Magherafelt, County Londonderry, also denies the attempted murders of two other soldiers, two civilian guards at the base, and two pizza delivery men, and possession of the two AK assault rifles used in the shooting on the outskirts of Antrim.
The gunmen made their escape in a Vauxhall Cavalier which was later found partially burnt out in a laneway seven miles away.
Two burnt matches and a mobile phone were found inside the car and crime scene investigators also found a partially burnt match outside the car.
Giving evidence at Belfast Crown Court on Wednesday, the scientist said he had conducted tests on all of the items to ascertain if there were any DNA profiles on them.
Profile
He said that having been involved in DNA analysis and the interpretation of results since 1992 and having been involved in hundreds if not thousands of cases, he was of the opinion that given the amount of DNA he found, it was more likely to have been put there by primary transfer rather than secondary transfer.
Turning to the match that was found outside the car, the scientist said while DNA components that were uncovered were consistent with Mr Shivers' profile, from the tests he conducted.
"I am unable to exclude him as a possible contributor," he told the court.
In relation to the mobile phone, the court heard how swabs were taken from the front, back and inside the phone and were submitted for analysis.
A DNA profile from swabs taken from the inside of the phone, the scientist told the court, matched all 17 components of Mr Shivers' DNA.
Profiles were found on swabs from other parts of the phone but were of such small amounts that they were unsuitable for analysis.
Under cross examination from a defence lawyer, the scientist agreed that some people shed more DNA than others and that there was no consistency as to how much DNA a person shed.
The lawyer suggested to the scientist that DNA could be transferred onto an item without touching it, citing examples of his DNA being found on the microphone in front of him if he sneezed "or merely by talking".
Agreeing with the suggestion, the scientist further agreed that a person may not even know if their DNA had been transferred onto an item and that in such circumstances, it would be very difficult for them to explain how their profile came to be on the item.
The trial continues.