Food safety institute to be launched in Belfast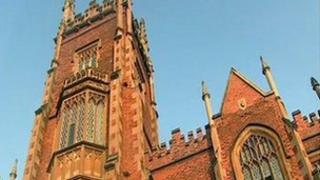 A new institute aimed at improving food safety around the world is to be launched at Queen's University in Belfast (QUB) on Thursday.
The Institute for Global Food Security (IGFS) has been described as an international "food-fortress".
QUB has invested over £33m in the IGFS, which will play a key role in improving the integrity of the food chain.
It comes in the wake of the horsemeat controversy, that led to investigations into the food supply chain.
Tesco chief executive Philip Clarke, who will launch the institute, said: "Northern Ireland can be proud that it is home to a world leading centre for the study of an issue which all of us in the food industry need to pay close attention to."
Professor Chris Elliott, director of the new institute, said: "We want to build a food-fortress, ensuring everything we import is of the highest quality and that what we sell locally and internationally is also 100% safe, nutritious and authentic.
"This new institute will ensure that we can continue to recruit the best students into our food programmes, creating the food-leaders of the future who have been trained in one of the world's best equipped research laboratories."
Queen's vice-chancellor, Professor Sir Peter Gregson, said: "Queen's formed the UK's first Institute of Agri-Food and Land Use in 2006, and since then we have quickly become internationally-recognised for our excellence in addressing complex food safety and quality issues.
"The opening of this new institute... is yet another example of the impact Queen's research is having on the wider world, and how our research not only benefits the people and businesses of Northern Ireland but many more people the world over."
Currently the production and processing of food plays a critical role in the Northern Ireland economy, with the sector providing 85,000 jobs and generating sales of £5.2bn each year.
Retail analyst Dr Clive Black said: "Financial markets of all sorts - public equity, private equity, venture capital and wholesale lending - have been keenly alerted to the perils and opportunities posed by the integrity, quality and safety of food and its importance to business and industry performance.
"It has never been so important and for the Northern Ireland agri-food industry, the largest component of the regional economy, to be and be seen as world class in these respects."