Irish Daily Mail pays John McAreavey damages over pictures of murdered wife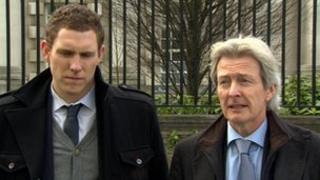 The libel action brought by John McAreavey against the Irish Daily Mail over pictures of his wife has been settled.
A lawyer for the newspaper group expressed apologies for the publication of still photographs from a CCTV camera interspersed with pictures of John and Michaela McAreavey.
His 27-year-old wife was killed on her honeymoon in Mauritius in January 2011.
Mr McAreavey is to receive a five-figure sum in damages.
Belfast High Court was told these were potentially misleading and caused significant distress to Mr McAreavey.
Speaking afterwards, Mr McAreavey said he was glad the matter had been settled and he was now getting on with seeking justice for his murdered wife.
Following a trial in Mauritius in 2012 two men were found not guilty of murdering Mrs McAreavey in her honeymoon suite.
Michaela was the daughter of one of Ireland's best known sports figures, Mickey Harte, manager of the Tyrone Gaelic football team.
She had married John McAreavey just 12 days before she was murdered, and was buried in her wedding dress.