Man flicked blood on nurse at Royal Victoria Hospital, Belfast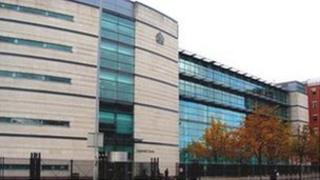 A "thoroughly unpleasant person" who flicked blood over a nurse's face has been sentenced to a year in prison.
Connor McCluskey, 24, from Glenfearna Gardens, west Belfast, was told he must serve half his sentence in prison and half on licence.
The incident happened in May 2012, as he was being treated in the Royal Victoria Hospital for a thumb wound.
The court heard that McCluskey had earlier thrown a bottle at a policewoman, hitting her on the wrist.
Police called to a domestic incident on 20 May 2012, found McCluskey hiding in the kitchen of his home, from where he threw the empty bottle at the officer.
Prosecuting lawyer Kirsten McKevitt said that thankfully, the bottle did not break and the officer was not cut but did sustain bruising.
McCluskey was arrested, but was then taken to the Royal for treatment to the thumb injury.
While there when a triage nurse was trying to remove a bloody bandage from him, McCluskey "became verbally abusive and raised his right arm towards her".
Fearing for her own safety, the nurse backed away, but McCluskey flicked blood over her face and upper body.
The lawyer revealed that at the time of the assaults McCluskey was on probation for criminal damage and was also subject to a suspended sentence for car crime.
The judge said: "I regard this as a mean, nasty offence.
"Hospitals are not there to put up with this type of behaviour when they are trying to treat patients. People cannot be allowed to behave like this."