Hope for Irish rugby despite twilight of golden generation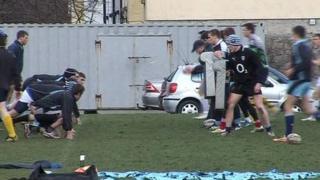 There is speculation that after this weekend's final round of Six Nations rugby matches, fans may not see Paul O'Connell, Ronan O'Gara and Brian O'Driscoll in Irish rugby jerseys again.
However, there is still hope for the future for Irish rugby.
The stands of the rugby grounds in Donnybrook are full of cheering secondary school boys.
Belvedere College from north Dublin are playing St Gerard's from Bray, County Wicklow, in the Leinster junior cup semi-final.
Looking on anxiously with some parents is the St Gerard's coach, one of Ireland's greatest ever rugby players, Tony Ward.
If anyone can put the contribution in context of the three O's - O'Driscoll, O'Gara and O'Connell - it's Tony Ward.
"We've actually won one championship since the Six Nations came into being, that was in 2009, and one grand slam. And we still haven't been beyond the quarter final of a World Cup", he said.
"But there's no doubt we've had the most talented, and in terms of longevity, the same crew of players for about 13 years.
"There's been that hardcore there that have given us so many happy memories, probably more in provincial rugby than in international rugby in terms of success."
Less than a mile away and still in Dublin 4, St Michael's senior team squad members are training hard for Monday's Leinster Senior Cup final with Blackrock College.
Scrum-half, Nick McCarthy, says he's been inspired by those from the golden generation wearing the green jersey.
"You look forward to watching all the internationals at the weekend. And you want to be like them one day," he said.
Nick says Brian O'Driscoll is his idol: "He's probably one of the best players of all time."
Few would disagree with that assessment, and certainly not Josh Murphy, St Michael's number eight.
Although Josh believes one of the three players may have seen better days, he said they should be remembered as they were.
"I think it's important that we don't look at them through the prism of their last matches," he said.
"With Ronan O'Gara not at his best we shouldn't remember him for that.
"We should remember them for what they've done and Brian O'Driscoll is still playing amazing and I don't think he'll ever be remembered for anything bad.
"And Paul O'Connell hasn't played in a while. I know he played a bit the other day and I heard he played well. So, it might not be the end of him yet," he adds.
St Michael's assistant coach, Brian O'Meara, is also of the opinion that Paul O'Connell may play on.
A former international scrum-half Brian played Munster schools, club and provincial rugby with Ronan O'Gara and with Brian O'Driscoll at Leinster.
"There is going to be a gap or a void when O'Driscoll and O'Gara retire," he said.
"But there are so many good, up and coming young players. Leinster schools' rugby seems to be as professional as any club. So, I think there's going to be a generation to come. I wouldn't be too upset or concerned."
It's a view shared by the St Michael's captain, Ross Molony.
"I think with the development in Irish rugby they can be replaced. There's a lot of work going in to rugby right throughout the country," he said.
Back in Donnybrook at the junior cup match, Tony Ward believes the Irish national side is currently going through a transitional period.
But he's confident about the future.
"I'm hugely optimistic that we do have a conveyor belt of talent coming through. I think the game is in good shape," he said.
"The IRFU have adapted well to professionalism and I think the structures are in place to make sure Irish rugby remains competitive going forward. So, yeah, exciting times ahead."
The excitement for the up and coming rugby players begins on Monday with the cup finals but for the IRFU it will be a case of stocktaking time after this weekend with a firm view on the future.