Girls Aloud dedicate part of Belfast show to Oran Murphy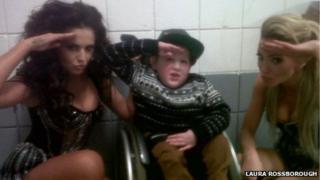 Pop group Girls Aloud surprised a six-year-old boy from Northern Ireland by dedicating part of their Belfast show to him.
Band member and Strictly Come Dancing star Kimberly Walsh announced on stage that the band were dedicating the show to Oran Murphy.
Girls Aloud have been on their 10th anniversary tour and performed two shows in Belfast.
The tour will finish in Dublin on Friday.
Oran Murphy, from Newtownabbey, County Antrim, who has spina bifida, is a huge Girls Aloud fan.
Oran had been given tickets by Santa for Christmas to go and see the girl band.
Oran's mum, Laura Rossborough, said she couldn't believe how the dedication came about.
"I had taken Oran to the airport to try and meet the girls when they arrived in Belfast as he really wanted to meet them," she said.
"As they drove past they saw Oran and reversed back. Kimberly, Nicola and the tour manager got out and spoke to Oran.
"We told them we were going along to the show and that we were really excited about it."
Before the show started the band's tour manager spotted Oran and his mum outside the arena and told them to go to the VIP entrance.
"We were taken backstage and the manager told us that Kimberly and Nicola had told the other girls about Oran and they wanted to meet him.
"We couldn't believe it, they all came out and met him and posed for pictures," she said.
Oran and his mum then went into the arena for the show.
"They dedicated the show to Oran just before they sang Beautiful Cause You Love Me and they looked up and waved at Oran
"Me and Oran's dad just burst into tears, we couldn't believe it.
Oran was also just as surprised as his parents.
"I was so excited going to the concert," he said.
"Cheryl was my favourite and it was great to meet her.
"Sarah said she wanted me to go on tour with them and Nadine said I was cute."
Girls Aloud are the latest stars to request to meet Oran, most recently Lady Gaga asked to meet him following her Dublin concert.