Tour of Pope Francis' Buenos Aires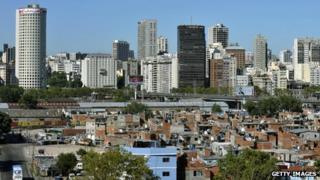 Enterprising Belfast man Kieran Rooney has launched a Pope Francis pilgrimage revealing details of the first Latin American pontiff's background.
Kieran, who owns Rooney's Boutique Hotel in the city, began to plan the tour as soon as he heard of Cardinal Jorge Bergoglio's election on Wednesday.
Formerly from Finaghy Road North, 39-year-old Kieran is married to Gabriela. They have two sons, Ignacio and Ruarí.
"We mean to give people an idea of the life of Pope Francis when he lived in Buenos Aires as a humble Jesuit priest, where he was born, educated and where he grew up," he said.
"The tour takes in the church where he sheltered people on the run from the military dictatorship. He carried out a lot of behind-the-scenes work like that. A local historian will give an objective view of the situation in the country at the time."
Public transport
Kieran said the future pope, who was 32 when he was ordained into the Jesuit order, was loved by the people of the city's slums "where he worked and sought social justice for the poor".
He said a woman, on hearing of the Pope's election, said to him: "Uno de nosotros esta arriba ahora," (roughly translated as, one of us is up now).
"As bishop of Buenos Aires and even when he was ordained as cardinal, he still travelled on public transport where he would often be asked to give blessings and hear the confessions of people on their way to work," Kieran said.
"Visitors will be taken to Flores, the down-to-earth neighbourhood of Buenos Aires where he grew up, and the college where he studied chemistry until he was hit by a lung infection.
"When he was young, Jorge Bergoglio was a good footballer until he had to have his lung removed. He has always supported San Lorenzo and we will be visiting the club during the tour.
"Coincidentally, on the day he was elected pope, the membership number of his San Lorenzo club supporter's card appeared in the national lottery."