Young Conway Volunteer bandsman bound over to keep peace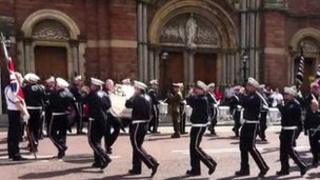 A loyalist bandsman charged in connection with an incident outside a Catholic church in Belfast has been bound over to keep the peace.
Members of Young Conway Volunteers were filmed playing a contentious song and marching in a circle at St Patrick's on Donegall Street on 12 July, 2012.
William Bell, 48, of Fifth Street, was charged with an assault offence.
The allegation was to be contested but, said the courts service, Bell entered a plea.
A spokeswoman said he was bound over to keep the peace for 12 months in the sum of £500.
The district judge ordered that any default of the resolution would result in 14 days imprisonment, she added.