Three vehicles damaged in Antrim arson attacks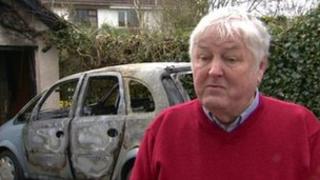 A car used to transport a young man with special needs, was among a number of cars targeted in Antrim in an early morning petrol bomb attack.
The car in Avondale was set alight at 07:00 GMT on Saturday. A van on the same road was also badly damaged.
Police said a third vehicle, a car, which was parked outside a pub in Antrim town centre was destroyed.
Councillor Adrian Cochrane-Watson said the the families involved had no idea why they have been targeted.
"In two of the incidents the fires caught on, one of them set alight a nearby garage, the other caught on to a house," he said.
"There was substantial damage caused to the garage. There was gas nearby and we were lucky no one was hurt or killed."
Paul Madden, whose car in Avondale was one of those targeted, said it was used to take his 23-year-old son to education classes and work training.
He said it had been a very upsetting experience for the family.
"We're very, very, hurt by it, the young lad more than anybody," he said.
"He was standing there in tears trembling, looking down at the car. We eventually had to take him away from the window."