Steam railway museum in £2.5m boost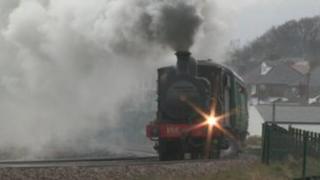 Millions of pounds are to be spent turning a steam engine depot at Whitehead, County Antrim, into a tourist attraction.
The depot is currently used by the Railway Preservation Society of Ireland (RPSI) to carry out work on their 10 locomotives.
RPSI plan to create an interactive museum and said it will become an essential stop on the tourist trail.
The money has come from the Heritage Lottery Fund and the EU-backed Northern Ireland Rural Development Programme.
The RPSI was established in 1964 and is an all-island voluntary organisation dedicated to the conservation and operation of heritage trains.
They hope improved visitor facilities will draw more people into the Whitehead area to learn about railway heritage.
Denis Grimshaw from the RPSI, said: "We plan to run more frequent train services for visitors in the future.
"Whitehead itself will become a visitor attraction where people can go on guided tours and actually see locomotives and carriages being rebuilt."
Edward Friel who volunteers on the project said the money had been a real boost.
"There is a mood of optimism developing in this place, now that we have a future," he said.
"It's very important to tell people about what we have and what we do here because there is a real fascination with people of all ages for steam and trains of the past."