Footballer Shane Duffy denies posting IRA message on Twitter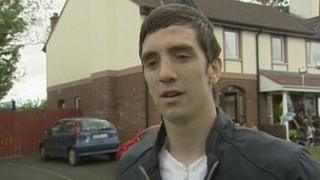 A Premiership footballer has denied responsibility for a message that appeared on his Twitter account, apparently in support of the IRA.
Shane Duffy, an Everton defender and Republic of Ireland international, said someone took his phone and retweeted the message without his knowledge.
The message appeared on his account during the early hours of Monday.
He later apologised for any offence caused and tweeted: "cant leave ur phone anywhere now!!" (sic).
'Mess'
Duffy, 21, is originally from County Londonderry.
As a teenager, he played for Northern Ireland at Under 16, 17, 19, and 21 level.
In February 2010, he switched his international allegiance to the Republic of Ireland.
The footballer has more than 48,000 followers on the micro-blogging site.
Later on Monday morning, Duffy reiterated his denials and said he was getting "abuse" from many Twitter users for something he did not do.
He posted: "The retweets and tweets was not me. Got to accept the hate. Really am sorry for this mess! Sorry guys!"
Controversy
Everton FC said in a statement: "The comment on Shane Duffy's twitter account is entirely unacceptable.
"We note his apology and explanation. The club will investigate the matter further with the player."
It is not the first time a Republic of Ireland international has been involved in controversy on Twitter.
Last month, Duffy's Irish team-mate and fellow Derry native James McClean closed his Twitter account after a row over an Irish rebel song.
McClean, who plays for Sunderland AFC, named The Broad Black Brimmer by The Wolfe Tones as his favourite song.
The song tells the story of a boy whose father is killed fighting for the IRA.