Beth Nielsen Chapman shares the secrets of songwriting success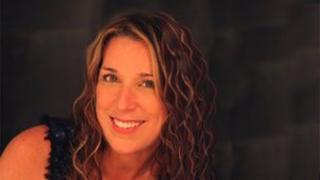 Beth Nielsen Chapman has just released an album about astronomy entitled The Mighty Sky, so it is only natural that she will be passing on some star quality at a songwriting workshop later this month.
The Texan has written a string of hits for performers including Elton John and Willie Nelson.
She will pass on some of the secrets of successful songwriting when she gives a masterclass at Fitzroy Presbyterian Church in Belfast's University Street on 28 March.
"I hear songs from all over the world and there is a real talent here and a great connection between Belfast and Nashville," she said.
"Every time I've taught a songwriting seminar or masterclass, I have discovered one or two artists and I just love to see them grow and give them suggestions, hopefully inspire them to have a lot of fun."
Beth has taught at various schools including the Royal Scottish Academy of Music and Drama and the Berklee School of Music in Boston.
Melodies
Her music has appeared in various films including The Prince of Egypt and Message In a Bottle
She said one of her greatest moments was when Elton John asked to use one of her songs during his 1997 tour of North America.
"Elton John called me up and asked me if he could sing my song Sand and Water instead of Candle In The Wind, he wanted to sing a tribute to Diana and asked if he could do that song," she said.
"Willie Nelson also cut my song Nothing I Can Do About It Now, to hear him sing that on stage five minutes away from me was amazing."
Beth explained the background to her recent album and said she hopes it will inspire learning in another sphere.
"I actually collaborated with a very amazing, learned man named Rocky Alvey who runs the Dyer Observatory in Nashville and he wrote the lyrics," she said.
"He had some of these melodies started but he couldn't quite get the song past a certain point and he came and asked me if I would help finish the album of songs.
"I always had an interest in astronomy since I looked up in the sky as a kid and went 'wow what is that'.
"I think all young people are naturally curious about that and the more I have learned about it the more fascinating it has become.
"I have learned more in the last period of making this record than I have at any time before in my life."