Eglinton man raided Derry church's £300 collection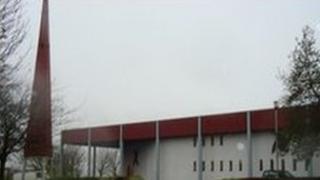 A man who raided charity boxes at a church in Londonderry has been refused bail at the High Court.
Bernard Cooke, 20, from Lettershandoney Avenue in Eglinton, is charged with burgling St Brigid's Church on Racecourse Road on November 29 last year.
Prosecutors said he kicked in a door to the prayer room and stole a collection of up to £300.
A judge described it as a "mean and nasty" crime.
A church sacristan had discovered the upstairs oratory broken into and charity boxes emptied.
Closed circuit television recordings were used to identify and arrest Cooke, the court heard.
"Kicked in the door"
Prosecution barrister, Conor Maguire, said the accused was detained in January and admitted going into the church after being shown the footage.
Cooke told police he first made an unsuccessful attempt to steal money from a box in the hallway, it was claimed.
"He said he then went to the upper floor into the prayer room and said he kicked in the door and proceeded to steal the money from the charity boxes," Mr Maguire said.
"He said he didn't recall how many boxes were emptied but he stated that he was able to use the money to pay off a debt of between £200 and £300."
Defence lawyer Gordon Talbot told the court his client intends to enter a plea to the current charge.
"We are dealing here with a young man who has been taking far too much cannabis in the last 18 months to two years," he said.
Mr Talbot said that Cooke had been desperate to get money because his girlfriend was expecting a child.
The judge, Mr Justice Horner, refused bail.
"This was a particularly mean and nasty offence, to steal from the church's charity boxes, especially when it seems to have been to fuel an addiction to cannabis," he said.