Ulster Bank faces £26m loss over collapse of GSB Guernsey Trading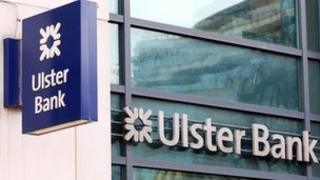 Ulster Bank is facing a loss of more than £26m following the collapse of a property company that was planning a major development in Londonderry.
GSB Guernsey Trading had planned to build a supermarket on a 36 acre site at Crescent Link.
The environment minister rejected the plan last year, prompting Ulster Bank to place the firm into administration.
The administrator's report suggests the bank is owed about £32m while the firm's assets are now less than £6m.
Revised scheme
The directors of GSB Guernsey Trading state that the Crescent Link site is worth about £5m while the firm's interest in another site in Banbridge, County Down, is estimated to be worth £250,000.
After the supermarket scheme was turned down at Crescent Link, Environment Minister Alex Attwood kept open the possibility that a revised "mixed use" scheme, including offices and health facilities, could still go ahead.
The administrator's report states that the planning process for that scheme will continue and that "an experienced planning advisor" has been appointed to manage the application.
Ulster Bank is facing a further loss of more than £2m due to the collapse of a related firm, Emerald Holdings CI.
Unsecured creditor
The bank had lent the firm more than £3m to develop a housing scheme at Curlyhill Road in Strabane, County Tyrone. The directors estimate the site to be now worth just £350,000.
Emerald Holdings CI also had a 10 acre site at Ballybofey in County Donegal and an eight acre site at Bernice Road in Mallusk, County Antrim.
The firm held options to purchase other unnamed sites throughout Northern Ireland.
The largest unsecured creditor of the firm is listed as Fermanagh-based Fisher Holdings (NI) which is owed almost £26m. It is unclear how much of that will be paid back.
The directors of Fisher Holdings (NI) are listed as being among the shareholders of Emerald Holdings CI.
Joint venture
Emerald Holdings (CI) and GSB Guernsey Trading are both connected to the Guernsey-based Orana Group, which is owned by John Farmer.
In 2011, Ulster Bank effectively repossessed the Outlet shopping complex in Banbridge. It was owned by a joint venture that included another Orana subsidiary.
In September 2012, the group's plan for a major mixed-use scheme in Omagh, County Tyrone, suffered a blow when Tesco, its intended anchor tenant, withdrew.
In January, Ulster Bank appointed receivers to Gilford Mill in County Down, which was owned by another Orana company, GML Estates.
The mill was the first property bought by the group in Northern Ireland but was never redeveloped despite plans for a hotel and golf course.
GML Estates' last set of accounts, for 2010, showed it owed creditors more than £22m and had assets of around £3m.