Northern Ireland unemployment highest in 15 years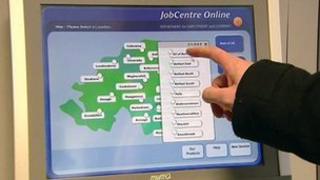 The unemployment rate in Northern Ireland is at its highest level in 15 years.
February's figures also show a record high for unemployment among 18-24-year-olds.
Almost one in four young people looking for a job cannot find one.
The overall unemployment rate is up 0.7% from that recorded in the previous quarter, bringing the jobless rate in Northern Ireland to 8.5%.
The last time the unemployment rate was last at this level in Northern Ireland was the first quarter of 1998.
The Northern Ireland rate remains lower than the European Union average and the Republic of Ireland which is currently almost 15 per cent.
The figures show some interesting regional variations within Northern Ireland.
Belfast, at 8.1%, has a higher rate of unemployment than the traditional jobs black spot of Strabane, 7.6%. Londonderry, 8.6%, tops the list as the district council area with the highest rate of unemployment .
The council areas showing the highest percentage increase over the year to February 2013 were Larne, 24.8%, probably reflecting the lay-offs at FG Wilson, Magherafelt, 16.1%, and Ards, 11.3%.
The number of people actually signing on and claiming unemployment-related benefits stood at 64,900 in February 2013, unchanged from the previous month. This current claimant count rate of 7.1% is the highest since August 1998.
The Northern Ireland claimant count rate, 7.1%, in February 2013 was the second highest among the 12 UK regions. The UK rate was 4.7%.
Over the year, the Northern Ireland claimant count has increased by 5.9% (3,600), compared to a decrease of 4.2% in the UK. The annual increase in Northern Ireland was the highest among the UK regions.
Estimates for November to January show that 58.6% of those unemployed in Northern Ireland have been unemployed for one year or more. This is up 15.8 percentage points from one year ago.
This month's figures also reveal that the unemployment rate for 18-24 year olds at 23.8%, up 7.8 percentage points over the year, is the highest level since the quarterly series began in 1995. This rate compares with 19.2% for the UK.
Enterprise Minister Arlene Foster said: "These latest statistics provide further evidence that the Northern Ireland economy continues to be impacted by the global downturn.
"There have been extensive negotiations between the executive and the Treasury over the devolution of corporation tax powers which culminated in a report to the prime minister towards the end of 2012.
"We are now at a critical stage and the time has come for decisions to be taken.
"I believe that lower corporation tax would lead to new jobs through attracting new inward investment and encouraging locally owned companies to expand."