Colin Shaw jailed for grooming and assaulting schoolgirl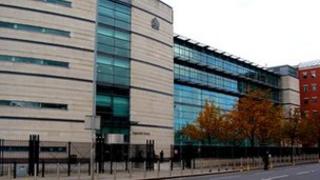 A man who groomed, then sexually assaulted, a 10-year-old girl has been jailed for two years.
Colin Shaw, 48, with an address at a hostel on Victoria Street, Belfast, was also ordered to spend an extra four years on licensed parole.
However, he could be freed within days as he has already spent the equivalent of two years on remand.
The court heard police found a map of east Belfast with schools and nurseries marked on it among Shaw's property.
Judge Corinne Philpott told Shaw that in assessing the danger he posed "it is my view that while the offences are at the lower end of the sexual scale, if they had not been nipped in the bud they would have continued to a much more serious state".
During his trial last November, the jury heard how Shaw, who is originally from east Belfast, befriended the 10-year-old girl, giving her cigarettes and alcohol and taking her into the city centre and to a Belfast leisure complex.
His offending came to light in September 2009, when the girl failed to come home and when she eventually did, she told her parents how Shaw had twice kissed her on the cheek, touched her through her clothing and hugged her.
When arrested and interviewed, Shaw claimed he had done nothing wrong.
He asked why he could not be friends with the child and further claimed the schools on the map had been marked out for a friend and that it was "just an interest".
However, Judge Phlipott said that for a single man, neither married nor with children "this court finds that a very strange interest" for which "an explanation has never been fully given".
She told Shaw that it was possible to be friends with a child, but that "people who are friends with children do not take advantage of them or treat them inappropriately as you have done".
"You had a sexual interest in this girl and you know it," Shaw was told by the judge, who revealed that it was only recently that he had accepted what he had done was wrong.
She said this was another factor which caused her concern as it showed "you are at a risk of reoffending".
Shaw's criminal record was another worrying feature, said the judge, as he had been convicted of two indecent assaults 30 years ago and also of perverting justice in that he had supported his sister-in-law's false account over how her husband, Shaw's brother, had been killed in September 2010.
Judge Philpott also imposed an indefinite Sexual Offences Prevention Order, barring Shaw from having unsupervised contact with children, working with children, contacting his victim or her family and from visiting or loitering near child-centred facilities.