Three Castlederg primary schools face possible closure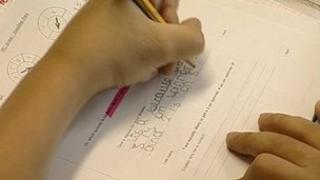 Three primary schools in the Castlederg area of County Tyrone face closure following the announcement of plans for primary education.
The future of Bridgehill Controlled Primary School, Envagh Primary and St Francis of Assisi Primary School, now depends on the outcome of a public consultation.
Staff and parents have said they are devastated at the announcement.
Education Minister John O'Dowd will have the final say.
Deborah Gordon is a parent of two children at Bridgehill Primary school.
"We're very sad; we're disappointed," she said.
"We're devastated at the news. But there's nothing we can do.
"It's a lovely wee homely school and it's a lovely warm atmosphere. I just dread the next school in case it's not the same."
'Emotional attachment'
Gillian Glass, the principal, said the closure would have a very big impact on the rural environment between Omagh and Castlederg.
She has taught in the school for nearly 30 years.
"Quite a lot of children have come through this school over the past 50 years, and indeed I'm teaching children of children I've taught in the past," she said.
"All those families will be affected by this because there is an emotional attachment to the school."
The school's enrolment for 2012-2013 of 28 pupils is below the minimum level in the sustainable schools policy, and the Department of Education plans indicate that it "cannot live within its designated budget".
Many schools across Northern Ireland are facing closure after the publication of plans for primary education by the Department of Education.
All the proposals depend on the outcome of a public consultation and will require the minister's final approval.
The announcement follows a review of all of Northern Ireland's schools ordered by the education minister.