BBC News School Report is broadcast live from Derry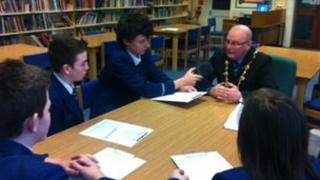 The BBC News School Report was broadcast from Londonderry on Thursday - the first time it has come from a location outside London.
The programmes were broadcast from BBC Radio Foyle from 09:30 BST on the BBC Red Button.
The project gives 11 to 16-year-old students in the UK the chance to make their own news reports for a real audience.
Schools create news reports and publish them on a school website.
Pupils have been reporting on a wide variety of stories that have caught their interest.
Frank Cottrell Boyce, the man who wrote the opening ceremony for the London 2012 Olympics, told school reporters from Derry about his fear of school and why he did not celebrate his 13th birthday.
Radio 1 DJ Gemma Cairney explained why she was relaxed about travelling to work in her pyjamas, and why she described her life as "bonkers".
Teachers at one Derry school said they wanted to see Scottish dancing become a full-time part of the PE curriculum.
BBC Radio Foyle broadcast journalist, Elaine McGee, is working alongside the School Report team in London, producing the radio programme.
"I am delighted to be involved with the project and to have BBC Radio Foyle as a hub for School Report on News Day," she said.
"It is such a significant year for Derry as UK City of Culture. For students in Northern Ireland to be able to tell their stories and showcase their talents to a UK-wide audience is a fantastic opportunity."
The project uses lesson plans and materials from the BBC website, with support from BBC staff and partners, to allow teachers to help students develop their journalistic skills.
About 33,000 pupils from nearly a thousand schools across the UK have been involved in producing the news for School Report day.