Minister Sammy Wilson gives Budget 'cautious welcome'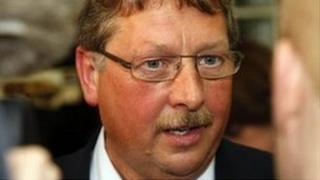 Northern Ireland finance minister, Sammy Wilson, has given Tuesday's Budget a cautious welcome.
He said he endorsed the government's decision to protect front-line services in health and education.
NI Secretary Theresa Villiers said it would boost the economy and ensure fairness for families.
But shadow NI secretary Vernon Coaker said that on a day when NI unemployment reached a 15-year high, it did "nothing to help people get back to work".
Northern Ireland was getting a "bad deal", he said.
Headline measures include:
Income tax reduction for 618,000 people in NI
7,000 more people in NI lifted out of income tax altogether
Support towards childcare costs for 80,000 NI families
National Insurance savings for 25,000 NI businesses
10,000 NI businesses taken out of employer National Insurance contributions
An extra £94m of capital spending power for the NI executive
Mr Wilson said he was particularly glad that the UK government had acknowledged the key role that capital spending on infrastructure has in stimulating economic growth.
He welcomed the decision to exempt NI from the carbon price floor - a tax measure that would have undermined the competitiveness of energy generators within the all-island market, he said.
"This not only would have put jobs in the sector at risk but also would have produced higher bills for energy consumers in Northern Ireland.
"This was a problem unique to the Northern Ireland energy market and our concerns have now been addressed - this will be much to the relief of hard-pressed households," he said.
The minister also welcomed the cancellation of an expected 3p increase in fuel duty.
"This additional tax burden would have hit Northern Ireland businesses hard as they already pay some of the highest fuel prices in the UK," he said.
A rise in the personal income tax allowance to £10,000 would help 618,000 taxpayers in Northern Ireland, lifting 7,000 out of income tax altogether, he said.
"The 2014-15 employment allowance of £2,000 per business will help 25,000 businesses here and lift some 10,000 out of employer National Insurance contributions altogether," he added.
Northern Ireland Secretary Ms Villiers said the 2013 Budget recognised "the urgent need to renew and rebalance the economy away from an over-reliance on the public sector".
"We need to boost private sector growth and jobs, and today's announcements will provide a stimulus," she said.
Speaking from Washington DC, Ms Villiers said families and businesses across NI would benefit from a range of new measures aimed at supporting aspiration, creating jobs and helping with the cost of living.