Men accused of Graham, Dinsmore murders in Turkey in court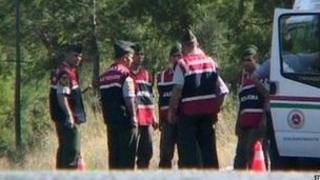 The father and son charged with murdering two women from County Down in Turkey have appeared in court for the latest hearing in their trial.
Marion Graham, from Newry, and Cathy Dinsmore, from Warrenpoint, were stabbed to death in August 2011.
Eyup Cetin and his son Recep are being tried in a number of hearings being held several weeks apart.
Recep Cetin told the court in the city of Izmir that he killed the women but maintained his father was innocent.
He was the boyfriend of Marion Graham's teenage daughter Shannon at the time of the murders.
The two women were found dead in a forest outside Izmir in August 2011.
The court has previously heard from a witness, whose identity was kept secret, who claimed to have seen both defendants near the forest where the victims' bodies were found.
At the hearing on Wednesday, the panel of four judges heard details of a survey of the crime scene that was carried out last week with the witness present.
A lawyer for Eyup Cetin asked that the survey report be disregarded because lawyers for the accused were not invited to be present during the survey.
The court rejected this demand.
The judges also asked for a report based on mobile phone signals that could verify the secret witness's movements.
The lawyer representing the victims' families, Baris Kaska, said the witness's evidence was significant because it backed up the prosecution case that the murders could not have been carried out by one person acting on their own.
A lawyer for Recep Cetin also asked for a further test to be carried out on the accused's bones to check his age.
At the start of the case, Recep Cetin claimed he was 17 and therefore should be put on trial in the juvenile court, where sentences are lighter.
A bone test later showed he was aged in his early 20s, so he was sent to the adult court.
The court rejected the request for another bone test.
It also ruled that Recep and Eyup Cetin should remain in custody.
The next hearing will be held on 15 May.