Saint Columba statue unveiled in Londonderry park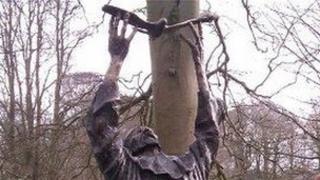 A statue of Londonderry's patron saint, Columba, has been unveiled in the city park that bears his name, St Columb's.
The statue of the saint, also known as Colmcille, stretches nine feet to the tip of his outstretched fingers.
The leaders of the four main churches were at the unveiling, along with the social development minister, Nelson McCausland.
The artist, Niall Bruton, took about six months to complete the work.
"I just wanted an uplifting piece so that's why he stretches his hands upwards letting go of a dove," he said.
Twelve new bronze cast doves along a new Christian heritage trail from the Waterside to the city centre have also been unveiled.
Monsignor Eamon Martin, the administrator of the Derry diocese and the man who is in line to be the next leader of Catholics in Ireland, said that Columba had a vision of charity, reconciliation and peace.
'Something special'
"For me it's very special to be coming here today and to remember our Christian roots in the city," he said.
"We're just a few hundred yards from the old church of Saint Brecan which is one of the earliest standing Christian foundations in the city.
"In this place over 1500 years ago people came to worship, to praise God.
"It's the beginning of something special."
The church of Ireland Bishop of Derry and Raphoe, Ken Good, said that Columba had meant a lot to him over the past ten years.
"Just before I was consecrated as a bishop I went to Gartan and I walked around the birthplace of Saint Columba in County Donegal and I've done so every year on the anniversary of my consecration.
"I find him inspirational and encouraging to me."