Tassagh murders: man extradited from Australia in court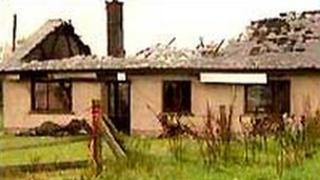 A man extradited from Australia to face charges of double murder has appeared in court in Newry, County Down.
Stephen Desmond Smith, 30, from Armagh, was flown from Sydney in custody.
Thomas O'Hare, 33, and Lisa McClatchey, 21, died after they were beaten with hammers, doused in petrol and set on fire at their home in Tassagh, in 2006.
The defendant only spoke to confirm his date of birth. He is also accused of one count of arson.
The prosecution put forward an application to have the defendant brought before Armagh court at a later date to have the case joined to that of co-accused Niall Smith, 37, Dundalk, County Louth, and Martin Smith, 40, Balbriggan, County Dublin.
There was no objection from the defence and no application for bail.
District judge Paul Copeland adjourned the case to 26 March to fix a date for a preliminary enquiry.