Sex offender name ban 'breached on Twitter'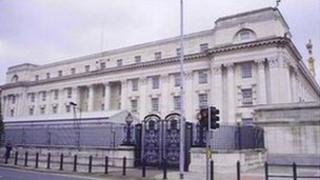 A ban on naming a convicted child sex offender may have been breached on Twitter, a court has been told.
Lawyers for the man, who is involved in legal action against Facebook, claimed the rival social media site was used to publish his identity.
A judge was told the potential breach of his order could amount to contempt of court.
A barrister has now been instructed to represent a second defendant in the ongoing case.
Joseph McCloskey was joined to the proceedings over his alleged role in the running of a Facebook page called 'Keeping our kids safe from predators'.
In November last year Facebook was ordered to take it down.
A judge granted an interim injunction after finding the contents amounted to prima facie harassment and risked infringing on human rights.
Threatening
The man who brought the legal action, known only as XY, is now pressing for a permanent injunction against both Facebook and Joseph McCloskey.
He has a total of 15 convictions for sexual offences committed between 1982 and 1989.
He was released after serving half of a six year prison sentence, only to be detained for a further six months for breaching a condition of his licence.
He went to court after discovering his photograph and threatening comments posted on the page.
With the injunction hearing listed for next month, new details emerged during a review hearing.
A lawyer for XY told Mr Justice McCloskey there was a publication of the plaintiff's name on Twitter.
According to the lawyer, the person responsible had used a cipher.
At this stage it amounts to a potential contempt of court, she added.
No allegation is being made against Facebook over the new posting.
Counsel for Joseph McCloskey confirmed he had just been instructed and has not yet consulted with his client.
But the judge responded by indicating that the defendant could find time to meet his legal representatives.
"Your client is investing a large quantity of energy in making known his views to the world at large," he said.
Mr Justice McCloskey then directed that the trial will go ahead as planned.