Robinson and McGuinness press David Cameron on corporation tax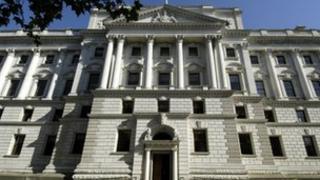 The first and deputy first ministers will be at Downing Street later to press the prime minister for a decision on devolving corporation tax powers to the Northern Ireland Executive.
Stormont wants power over corporation tax so that it can reduce it to match the rate in the Republic of Ireland.
The policy has all-party support at the executive and the backing of the secretary of state.
But the idea is not universally supported in government at Westminster.
There are fears there that devolution of such a key tax could prove difficult and expensive to manage and be a drain on both Treasury coffers and Stormont's annual finances.
In order to comply with European law, the executive would have to compensate the Treasury for any tax reduction by handing back a portion of its annual budget.
That could cost hundreds of millions of pounds a year, though the budget decision of the chancellor, George Osborne, to reduce the main rate of corporation tax in the UK to 20% by 2015 does help to reduce that cost.
However, supporters believe the economic boost to Northern Ireland from inward investment would outweigh the cost to the public purse.
But there are also concerns that the issue could ignite nationalist passions in Scotland ahead of the independence referendum next year.
Those with reservations about devolving the power may also point to the downward trajectory of the main UK rate - falling 8% during the lifetime of this parliament - and could argue that the rate difference between Northern Ireland and the Republic is reducing in any event.
Earlier this month, Northern Ireland Secretary Theresa Villiers said the meeting would help Mr Cameron come to a decision.
However, no immediate announcement is expected.
The prime minister may focus on preparations for the G8 summit in Fermanagh instead.