Man held over mortar find in Derry faces more questions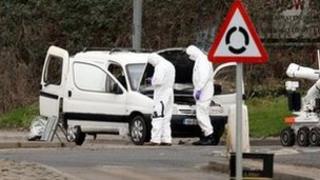 One of two men being held in relation to a mortar bomb find in Londonderry has been moved to police custody for questioning about terrorist offences.
Four improvised mortar bombs and a pipe bomb were found in a van in the Brandywell area in March.
The application to have 37-year-old Gary McDaid, from Glenowen Park, transferred was made by the police at Londonderry Magistrates Court.
Mr McDaid was remanded into police custody for 72 hours.
A detective constable told District Judge Barney McElholm that he wanted to question the defendant about other offences and that his application was being made under article 44 of the police and criminal evidence act.