Thief who conned nuns and stole £50 is jailed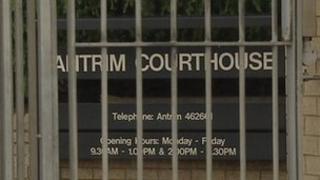 A conman who tricked nuns and stole £50 after pretending he wanted to join the priesthood has been jailed for a year.
John Shane Cronin, 41, of no fixed abode, was sentenced for taking the money from Drumalis retreat house, Larne, on 15 February 2012.
At Antrim Crown Court on Tuesday, the judge told him his action was "nothing less than beneath contempt".
He called it a "despicable act" against nuns who, only days before, had welcomed him in.
Cronin was told that it must have been "a great disappointment" to him that he got just £50 from a petty cash box.
The judge said one of the most significant factors was Cronin's record of 50 offences committed over the last 25 years for dishonesty, theft, fraud and perjury. He said he had led a "life of confidence trickery and deception".
A prosecution lawyer said Cronin had been invited on the paid-for weekend retreat after "duping" a local priest into thinking he had a vocation for the priesthood.
While there, he conned the nuns into believing he was a managing director with a well-known Scottish company who might be able to supply them with much-needed computers.
He extended his stay by a further three days, promising to pay £150 for the accommodation, but left without paying.
However, he was later captured on CCTV returning to break into the retreat house and taking the petty cash.
He was arrested by police after a nun who had spotted him raised the alarm.
In 1992, Cronin was jailed for life by the Edinburgh High Court for a serious sexual assault. The sentence was reduced to six years on appeal.
A defence lawyer said Cronin accepted that he had prevailed upon the hospitality shown to him and he "wished to apologise, not only to the court, but unreservedly to the nuns at the retreat house".
The lawyer said his family had "come to the end of the road with him".
He said Cronin, who plans never to return to Northern Ireland, deserved credit for his guilty plea.
Cronin was arrested by English police in June last year and has been in custody since then.
Upon his release, within the next two months, Cronin will be under supervised licensed parole for the following year.
However, it remains to be seen which of three different police forces wanting to talk to him, will be granted jurisdiction over him.