Northern Ireland beaches 'excellent water quality'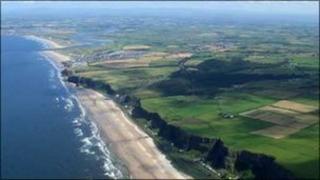 Most of Northern Ireland's beaches have excellent bathing water quality, according to the latest survey by the Marine Conservation Society.
Last year was one of the wettest summers on record, but 15 of the 23 beaches still managed to pass European guidelines.
That is just one fewer than the year before.
Only one NI beach, Newcastle, County Down, failed to meet a minimum European standard for bathing water quality.
Dr Robert Keirle of MSC said Northern Ireland (NI) Water had invested heavily over the last 10 years to improve its network of sewers and pumping stations and this investment appeared to be paying off.
"Despite Northern Ireland as a whole experiencing an exceptionally wet summer during 2012, today we can recommend the second highest number of beaches in the province," he said.
"So the benefits of NI Water's investment are starting to become apparent."
MCS said that, nationally, 42 beaches (5.6%) failed to meet even a minimum European standard, or equivalent, for bathing water quality; 17 more than in last year's guide.
Dr Keirle said just because this was the second best result on record for Northern Ireland's beaches, it was no time for complacency.
"There are still a lot of combined sewage overflows (CSOs) that need attention, and farming is an important part of Northern Ireland's economy," he said.
"So although the problems with discharges from NI Water's sewage treatment works have been largely addressed, this has now exposed the significant impact diffuse pollution from agriculture and urban areas is having on NI's coastal waters."
Despite the good news for Northern Ireland, heavy rain and flooding last summer resulted in an increase in the amount of bacterial pollution found on beaches that failed.
Bacterial pollution can originate from a variety of sources such as agricultural and urban run-off, storm waters, misconnected plumbing, septic tanks and dog faeces.
Sewage and animal waste is full of viruses and bacteria and most water users won't be aware that this type of pollution can increase the chance of them going home with an ear, nose or throat infection or even gastroenteritis.