Corporation tax: Peter Robinson says campaign will continue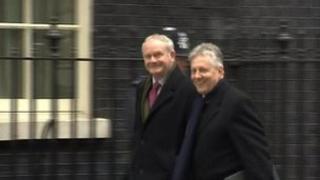 First Minister Peter Robinson has said he is not giving up on the campaign to reduce the level of corporation tax in Northern Ireland.
On Tuesday, Prime Minister David Cameron said there would be no decision on devolving the powers until after the Scottish referendum in 2014.
Mr Robinson said it would be a "game changer" for the NI economy.
Deputy First Minister Martin McGuinness said he did not believe Mr Cameron had any intention of devolving tax powers.
"I have in the course of the past 20 years dealt directly with three British prime ministers and three US presidents," he said.
"I have to say yesterday's performance by David Cameron in Downing Street was the most unconvincing performance I have witnessed throughout that time by any of them.
"On the issue of corporation tax I have little confidence that Mr Cameron has any intention of transferring these powers even after the Scottish referendum is out of the way."
'Keep fighting'
Speaking at Stormont, Mr Robinson said: "I don't believe there's any other step that can be taken which would have the same positive impact.
"You do not give up. You keep fighting for it."
He said other initiatives should be considered to boost the economy, such as increasing borrowing power and tax relief, but he said corporation tax reduction remained the priority
Meanwhile, the NI Independent Retail Trade Association (NIRTA) has said the government's delay on a decision to devolve corporation tax to Stormont was deeply disappointing.
Glyn Roberts of NIRTA said the decision sent out the wrong message.
"It will be deeply disappointing to Northern Ireland's business community that the decision on corporation tax has been effectively binned by Downing Street," he said.
"Setting our own local corporation tax rate was the settled view of all the main business organisations and the five main political parties.
"It is to be regretted that the prime minister ignored that united view."
The policy has all-party support at the Northern Ireland Executive and the backing of the secretary of state.
The executive would have to compensate the Treasury for any tax reduction by handing back a portion of its annual budget.
However, supporters believe the economic boost to Northern Ireland from inward investment would outweigh the cost to the public purse.