No barrier over Catholic and Protestant schools merger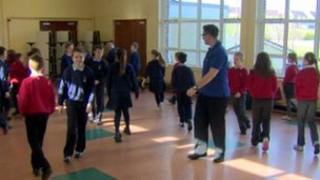 Two County Tyrone primary schools have been told there are no legal barriers to them merging.
The schools, one Catholic and one Protestant, would use the same front door but go to their own separate wings.
The mostly Protestant Moy regional, has a lot fewer pupils than recommended. It would merge with St John's.
The schools say it will save money and save the smaller school from closure.
The education minister, John O'Dowd, said there were no legal barriers to the schools merging.
Classes from both the Moy regional and St John's Catholic schools often walk the five minutes through the village of Moy to share classes and activities.
St John's Catholic school has plenty of pupils but it does not want the regional school to close.
It is worried that if that happened, the Protestant community would leave the village and they believe that would not be in anyone's interest.
Innovative
The two schools have a plan to take their sharing a step further by building a single school to replace the existing schools.
They would come together in the canteen, gym, music and IT rooms. But crucially, they would keep their own uniforms, teachers and boards of governors.
The schools' research shows that two separate new schools would cost £26,000 per pupil while one joint school for the same number would cost £18,000 per pupil.
They met the education minister on Tuesday, and he told them there were no legal barriers to the project and now they are optimistic he will grant them funding.
John O'Dowd was enthusiastic about the idea which fits in with his encouragement for schools to share facilities before they get money for a new building.
He is encouraging the education authorities to have further discussions to work out ownership and management of a joint school, which has never been done before in Northern Ireland .
In a statement, Mr O'Dowd said he had a useful meeting with representatives from the primary schools.
"The department would be supportive in principle of any proposal to co-locate schools and share facilities," he said.
"It would be for the managing authorities and school trustees to agree the way forward on the issues of school management and building ownership.
"The department would be happy to facilitate these discussions. In seeking innovative solutions for the schools estate the department would be willing to further explore the proposal within the context of area plans and the restricted capital budget."