Armagh Rhymers to play Glastonbury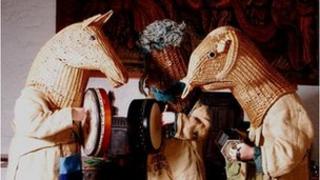 The Armagh Rhymers, a traditional masked song and storytelling group, are to play Glastonbury festival this summer.
They will play the theatre and circus fields in June.
Dara Vallely, an original member of the troupe, said he and his fellow performers were "amazed" at the news.
But it is not the first time the group has performed at Worthy Farm. They have played Glastonbury three times before, the last time being in the 1980s.
The current line-up is Dara Vallely, Eoin Kelly and Ray Dunne.
"I said to the other lads, I used to play Glastonbury, and they were like, 'what?'," Mr Vallely said.
"Glastonbury have brought us back for old time's sake."
The Armagh Rhymers wear hessian and straw on their bodies, with animal masks on their heads.
Their stories, songs and dances hark back to a house-visiting tradition.
As well as rhymers, they have been known as mummers.
Mr Vallely said the tradition was enjoying a revival in schools and theatres especially across Armagh.
But how will they be received at the massive music festival at Glastonbury?
"You are among kindred spirits there," said Mr Vallely.
"We'll not get as many clicks on the cameras as the Rolling Stones, but my head's big enough anyway."