Work continues in Dromore over landslide fears near nursing home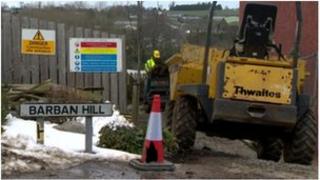 Work is continuing to prevent a retaining wall collapsing at a housing development in Dromore, County Down.
Engineers are trying to reduce the load on the wall at Barban Hill which is at risk of collapse due to a landslip.
On Thursday, eight homes were evacuated and 17 elderly residents from the Skeagh Care Home were relocated.
Engineers advised residents to move after a retaining wall at the back of the property was at risk of collapsing.
The Southern Health Trust said they do not know when the residents will be allowed to return to the home.
They said they would continue to keep the families of residents informed as work continues to fix the problem.
On Friday, health minister Edwin Poots visited some of the Skeagh Care Home residents who have been transferred to a care home in Banbridge, County Down.
He said it was difficult to say when the matter would be resolved.
"I think it will take some time for engineers to assess the state of risk, how they are going to remove that risk and all of that will take a period of time," he added.
"At this moment in time everything is very fluid and we are trying to identify what the issues are and how those issues will be dealt with and then we can make decisions thereafter."
David Law, the developer who built the houses, said hundreds of tonnes of earth had already been removed.
"Part of this mountain has slipped a little bit and continues to slip. On this sits a retaining wall which supports the gardens of the property as it continues to move," he said.
"We are monitoring the situation and on Thursday we removed around 400 tonnes of earth and indeed we saw the weight of slide diminish.
"That may be due to our actions or it may be due to nature."