Belfast Zoo likely to remain closed over Easter due to snow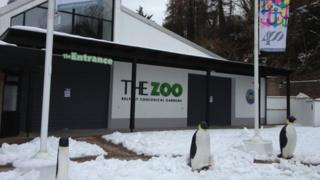 Belfast Zoo is likely to remain closed over the Easter holidays due to snow which is still lying on the site.
Snow is lying up to two feet deep and has caused significant damage to the zoo's facilities.
A significant number of mature trees have fallen and have inhibited access and caused damage to enclosures, pathways and other facilities.
The zoo closed on Friday 22 March when the snow began falling.
Zoo manager, Mark Challis, said: "Our keepers have been working against the elements to care for our animals and as the majority of our animals have been born in Belfast, or in other European zoos, they are acclimatised to the cold weather.
"In fact some of our animals, such as the penguins, positively thrive in this environment. However, for visitor safety and animal care reasons, we have had to take the decision to temporarily close the zoo.
"This is especially disappointing as we have been working hard towards our busy Easter season. I can assure all of our visitors that the entire zoo team and contractors are working tirelessly to return the site to normal conditions."