Easter egg remains unopened after 45 years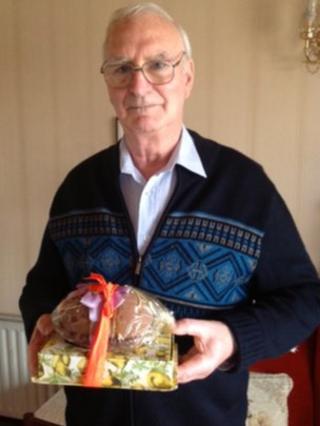 Lent is often a time when people decide to put their love for sweet foods to one side.
But Londonderry woman Brigid Langan is still unlikely to indulge herself in one particular item even after Easter Sunday has passed.
Brigid was bought a chocolate egg in 1968 by her then boyfriend Tony as a sign of his affection.
The couple have since formed a solid bond through marriage and, like it, the egg continues to remain unbroken.
Tony told BBC Radio Ulster's Talkback programme the history of the egg which was bought in Dublin and is still retained in its original package.
"Years ago there were no eggs filled with sweets and what they did was put sweets beside the eggs so I bought her two eggs, that's when you are really in love," he said.
"The eggs were stolen, so I said to my wife jokingly you have eaten the egg.
"I went out and bought another egg, so she kept the egg to prove that she didn't eat it.
"She still has the egg, it looks like it is hand-made and it is still wrapped up in cellophane paper.
"It is beginning to show its age.
"The box and everything is there, not a crumb taken, I don't know how my wife resisted."